Rallying Behind the Cause – Team Hoyt
Since 1989, The Hoyt Foundation has worked tirelessly to build the individual character, confidence and self-esteem of America's disabled and physically challenged young people through inclusion in all facets of daily life.
Dick Hoyt Speaks at Le-Vel Conference
Dick Hoyt was the surprise headline speaker at an annual conference presented by Le-Vel earlier this year.  Le-Vel is a direct sales company that manufactures and distributes health and wellness products through a network of more than 600,000 independent Brand Promoters. An audience of more than 20,000 was moved by Dick's story of his son's perseverance in the face of seemingly insurmountable odds. His call to action – "Yes, You Can" – deeply inspired the crowd. It was a powerful reminder that no matter the challenge, barriers can be broken, and the finish line is always worth the fight.
Supporting Team Hoyt
To support the Hoyts' mission, Le-Vel employees and Brand Promoters participated in a month-long promotion in which 5% of the sale of each limited-edition Hoyt Derma Fusion Technology (DFTs) was earmarked for the Hoyt Foundation. In four weeks' time, they were able to raise $240,000 for The Hoyt Foundation and Team Hoyt.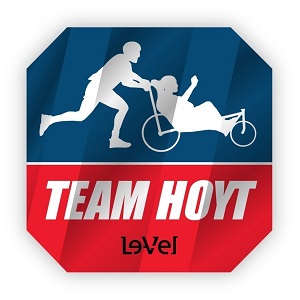 Part of a three-step regimen called THRIVE, DFT is a time-released delivery system that infuses the skin, or derma, with a formula of ingredients designed to help consumers experience benefits including mental performance and appetite management. The limited-edition Hoyt DFT featured a "Yes, You Can" design and the Team Hoyt logo. It was a creative way to help spread the word about the great work of Team Hoyt, as we continue to work together to help people push beyond their barriers and achieve excellence in their lives.
"The Hoyts are proof that, with perseverance, belief and a strong support system, we can achieve incredible things," Paul Gravette, Co-CEO, Co-Owner and Co-Founder of Le-Vel. "On behalf of our employees, independent Brand Promoters and their customers, we're honored to support Team Hoyt and the Hoyt Foundation in their tireless efforts to help the disabled and physically challenged live their lives to the fullest."
And the race continues!